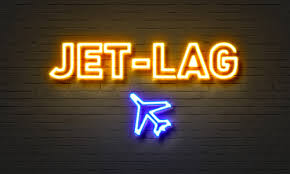 By Towards Better Sleep Facilitators, Clinical Psychologist, Kathryn Smith & Psychiatrist, Dr Curt Gray
Most of us at some stage of our lives will experience the suffering of jetlag, a temporary condition caused by air travel across time zones. Our body clocks are "out of whack" resulting in a temporary circadian rhythm sleep disorder or sleep-wake schedule disorder.
Fatigue and insomnia are the most common signs of jetlag, however some people experience more severe symptoms including anxiety, confusion, headaches, digestive issues, dizziness, and mentation difficulties such as memory loss.
If you have traveled with a child or baby, they are not immune and can also suffer from these symptoms.
Although jetlag is somewhat unavoidable, there are ways to help your body recover more effectively without prolonging the inconvenient symptoms brought on by international travel.
Here are a few tips:
As much as you will feel like napping-don't! Napping with upsets your normal sleep pattern and will make it more difficult to fall asleep at the adjusted sleep time.
It sounds obvious but caffeine and alcohol should be avoided if you want to catch your zzz's. Although alcohol may put you to sleep, it won't result in quality sleep.
Stay well hydrated by drinking lots of water.
Relax! Stress is the number one cause of sleeplessness, so find ways to unwind and de-stress during and after your flight. Meditation is a great way to achieve this.
Don't stress about losing sleep, this will only cause you to be more uptight.
Avoid heavy food close to bed time, both on the plane and after you arrive at your destination.
Avoid strenuous exercise nearing bedtime, although light exercise during the day can be very helpful.
Get some fresh air and soak up the sun. Exposure to daylight is a powerful biological cue for our bodies so it will help in adjusting the circadian rhythm.
Operate within the normal sleep and wake times for your newly adjusted time zone.
If you are struggling with ongoing sleep problems, you may be suitable for our Towards Better Sleep program with the next group starting 12th April 2018 from our Morningside practice. Find our more here.