Posted on March 10, 2017 in Uncategorized -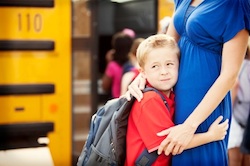 By Miranda Mullins- Clinical Psychologist- Psychology Consultants
Jack is nine and his teacher describes him as well-mannered and hardworking. But his parents were concerned when he repeatedly became very upset before he presented projects in class. Jack regularly said to them that his work was not good enough and on one occasion, he vomited before going to school. Jack's parents were also concerned that he was having trouble getting to sleep.
After discussions with the psychologist, Jack said he felt nervous with changes to his routine such as going on a school excursion or running in an athletics carnival. He also said he was reluctant to go to friends' houses because of his fear of dogs and was worried about being embarrassed if he became upset.
Jack's mother told the psychologists that when he started Kindy, Jack was very thoughtful and expressed worries about new situations. She said he sometimes would get upset or have tantrums when things weren't just right. At this stage, his parents thought this was 'just Jack' and that he would grow out of it.   His mother revealed that she was generally unsure how to handle Jack's fears. Sometimes she would reassure him but other times she would become frustrated.
Diagnosis
Jack's pattern of physical symptoms and worries indicated he was suffering from Generalised Anxiety Disorder as well as a specific phobia of dogs. The psychologist explained that it was likely that Jack had inherited a sensitive temperament which may explain why he saw the negative in situations and perceived situations as threatening. It appeared that this tendency had been present for some time, but Jack's move into a class with a new teacher without his friends had triggered his anxiety, causing him to have difficulties coping.
Treatment
Jack first learned to identify different emotions and recognise the signs in his body that showed he was becoming worried. He then learned skills to relax his body and gain confidence and control over his physical symptoms. He became aware of negative self-talk or unhelpful thoughts and learned the skill of positive self-talk to increase his confidence and manage his anxiety. He also learned to focus on and reward his own success and his parents learned ways to reward his use of coping skills rather than provide reassurance.
To address Jack's fear of dogs, the psychologist introduced a gradual exposure plan where he developed confidence managing his anxiety with smaller, more-friendly dogs until he was able to face larger, barking dogs.
Jack was proud of himself when he practiced the skills he learned and discovered he was able to enjoy a lot of things he has previously worried about.
For more information on Miranda and our team of Clinical Psychologists committed to taking steps towards change, visit the Brisbane Psychologists page of our website. #believeinchange
Related Posts
About The Author