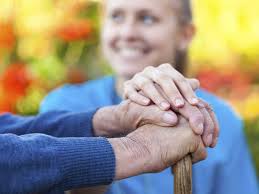 Caring for a loved one with dementia is a massive responsibility and although it can be rewarding it can also take a major toll on the mental and physical health of the carer. Statistics show that 1 in 10 people over 65 years have dementia, ranking the disease as the third leading cause of national disability burden.
Carers are often strapped aboard a rollercoaster of emotions experiencing an array of feelings from love and tenderness to guilt, despair, anger and intense worry. The weight of responsibility gets heavier for the carer as the patients loses their independence and the journey often bring great sadness to those who bear witness. During this journey it is of utmost importance that carers ensure they are prioritising their own physical, mental and emotional health.
Dementia is terribly sad for friends and relatives to witness, as the degenerative state of the disease closes all windows of hope. As humans we naturally seek out positives as we grapple at snippets of the sufferer's former self. When it comes to degenerative disease, seeing the positive rather than weighing in on the negatives, is crucial to emotional health. Children are often wondrous in these situations, taking a fresh and unique perspective. Rather than shy them away from the person it can be helpful to encourage their visits and allow them to understand what is transpiring.
Communication is the key when it comes to expressing feelings in all situations but particularly when it comes to caring for someone with dementia. Denying feelings, even if they are ones of anger, guilt or exasperation, will not be helpful in the long run. Confiding in a friend or a professional about how you are feeling, will not end in judgement. This is a great life challenge and practicing self-compassion is vital to your mental health. Cry, talk to a friend or a professional, write a journal; just let the feelings out, they cannot heal when they are trapped inside.
Taking time out from carer duties to enjoy something you love is one way you can be kind to yourself. Exercise and meditation are both effective outlets, helping you to relax and improve mood, sleep and cognitive function.
Learn to find some joy in a time that may not seem like your happiest and remember, the person may not remember who you are, but you can still honour and remember who they are.